GoAUpher: Bumped for history!
Just a quick one because no one wants to do any work today, not even nerdy historians like myself.
The Spartans had been #1 for three straight weeks in the fall of 1961 when they met the Gophers on November 4th at Memorial Stadium. Sid Hartman (who would have been a spry 41 years old in 1961) described that years Michigan State team as, 'the toughest, most physical team in the country.' Hasley Hall and Ray Christensen both picked State to win the game.
But on a cold, gloomy day, in front of 59,941 fans in Dinkytown watched Murray Warmath pull a few tricks out of his sleeve. Coach Warmath ran an unbalanced offensive line (two guards on one side of the center). Murray hadn't used such a scheme in three years, it surprised the Spartan defense and allowed the Gophers to be more physical.
According to Assistant Coach Don Grammer, "I had a feeling Michigan State might under sell us and not be mentally right... But even Notre Dame didn't hit them as hard as we did."
The game was dominated by Sandy Stephens's cool play at quarterback and on defense picking off a pass late in the game to secure the victory. On offense, halfback Bill Munsey scored two TD's, as the Gophers upset the #1 Spartans 13-0.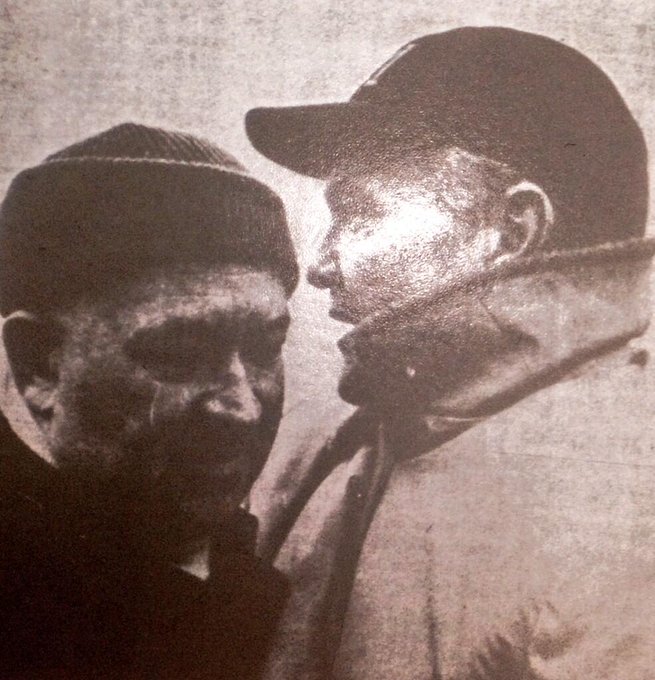 Coach Warmath (right), chats with Spartan Coach Duffy Daugherty (left) after the game, via The Minnesota Daily.
Coach Warmath was carried off the field on his players' shoulders while the players chanted "WE'RE NUMBER 1!" Fans threw pink (pink?!), yellow, and white rolls of toilet paper onto the field.
The Gophers shot all the way up to #3 in some polls after the game. And as I assume everyone reading this is aware, Minnesota secured their second consecutive Rose Bowl berth at the end of the season.